*I received this book as an eARC
in exchange for an honest review*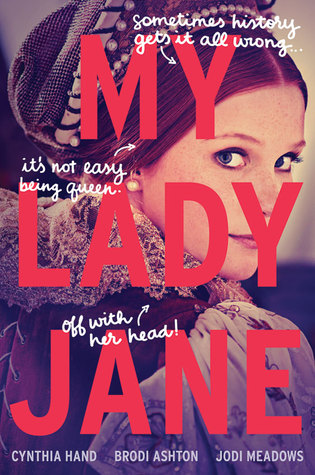 Amazon | Barnes & Noble | Goodreads
Title:
My Lady Jane
Authors: Cynthia Hand, Brodi Ashton, & Jodi Meadows
Release Date: June 7, 2016
Synopsis:
The comical, fantastical, romantical, (not) entirely true story of Lady Jane Grey. In My Lady Jane, coauthors Cynthia Hand, Brodi Ashton, and Jodi Meadows have created a one-of-a-kind fantasy in the tradition of The Princess Bride, featuring a reluctant king, an even more reluctant queen, a noble steed, and only a passing resemblance to actual history—because sometimes history needs a little help.
At sixteen, Lady Jane Grey is about to be married off to a stranger and caught up in a conspiracy to rob her cousin, King Edward, of his throne. But those trifling problems aren't for Jane to worry about. Jane gets to be Queen of England.
------------------------------------------------------------
Review: I am a big fan of Jodi Meadows's books. The Newsoul series and the Orphan Queen duology are two of my favorite YA fantasy series. She is just one of the three great authors that brought this book together. I've only read one of Brodi Ashton's books and have yet to read one of Cynthia Hand's.
This book is a comedy. I think it may be one of the only funny YA fantasies I have read. Usually YA fantasies are quite dark. This book has all the elements of a normal YA fantasy, but with added humor and a lighter voice. The style reminds me of that of The Princess Bride, which I have not read but I have seen multiple times. It is written with modern awareness. I liked seeing feminist ideals in a historical context.
The way this book is written feels like a few friends telling each other a story. It has a casual vibe to it. The authors pop in to clarify or add remarks throughout the book.
This book not only has magic. But animal magic! As in, some people can turn into animals. I definitely got Animorphs flashbacks during a few scenes. I like how the different animal forms are utilized. Definitely a cool magic system.
I was not that familiar with the actual historical event this book is based on, but I'm sure those knowledgeable in the matter will enjoy this book even more. The authors take history and add magic. And they might just change the ending.
There is romance in this book and it is done well. I found it interesting. The relationships change throughout the book.
There were parts of this book that just could not hold my attention. But, a few slow bits did not ruin the book. I give this book a 4/5. I recommend it to fans of stories based on history with an added magical twist.
--PAUL