*I received this book as an eARC from Blazer + Bray
in exchange for an honest review*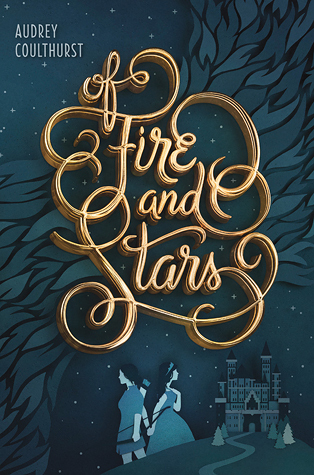 Amazon | Barnes & Noble | Goodreads
Title:
Of Fire and Stars
Author: Audrey Coulthurst
Recent Release Date: November 22, 2016
Synopsis:
Betrothed since childhood to the prince of Mynaria, Princess Dennaleia has always known what her future holds. Her marriage will seal the alliance between Mynaria and her homeland, protecting her people from other hostile lands. But Denna has a secret. She possesses an Affinity for fire—a dangerous gift for the future queen of a kingdom where magic is forbidden.
Now, Denna must learn the ways of her new home while trying to hide her growing magic. To make matters worse, she must learn to ride Mynaria's formidable warhorses—and her teacher is the person who intimidates her most, the prickly and unconventional Princess Amaranthine—called Mare—the sister of her betrothed.
When a shocking assassination leaves the kingdom reeling, Mare and Denna reluctantly join forces to search for the culprit. As the two become closer, Mare is surprised by Denna's intelligence and bravery, while Denna is drawn to Mare's independent streak. And soon their friendship is threatening to blossom into something more.
But with dangerous conflict brewing that makes the alliance more important than ever, acting on their feelings could be deadly. Forced to choose between their duty and their hearts, Mare and Denna must find a way to save their kingdoms—and each other.
------------------------------------------------------------
Review: I want more books like this! Queer YA Fantasy! Of Fire and Stars checks so many of my boxes. There's a queer romance element. It's YA. There's political intrigue. It's a fantasy with amazing worldbuilding and elemental powers!
All of the characters have depth and their relationships develop naturally throughout the book.
The characters complement eachother nicely.
The world is also so intriguing. We stay mostly in a castle and the surrounding city, but the world beyond is delved into thoroughly
.
I liked seeing Mare's passion for horses. I'm not that familiar with horses, but I could connect to her passion.
I give this awesome book a 5/5. I HIGHLY recommend it to readers looking for a Queer YA Fantasy! I want more books like this! NOW!
--PAUL