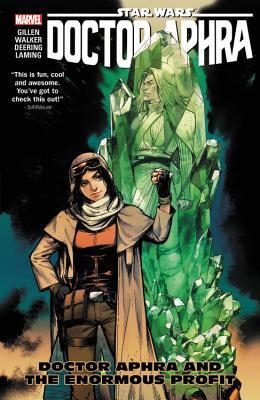 Amazon | Barnes & Noble | Goodreads
Title:
Star Wars: Doctor Aphra, Vol. 2: The Enormous Profit
Writer: Kieron Gillen
Artists: Marc Laming with Will Sliney, Kev Walker, & Marc Deering
Recent Release Date: February 6, 2018
Doctor Aphra Volume 1
Screaming Citadel
Synopsis: Aphra's back with a brand-new plan that's guaranteed to pay! There's just one teensy problem... it involves surrounding herself with some of the galaxy's biggest baddies. And they don't like the not-so-good doctor's tricks! Her mission to make quick credits by auctioning off an ancient Jedi artifact will start well... and end badly. And that's just when a dark figure from Aphra's past decides to make an appearance! Plus, a solo focus on Aphra's Wookiee shadow, Black Krrsantan! Find out why this beastly bounty hunter is as frightening as they say... and then some!
------------------------------------------------------------
Review: I am very much enjoying the Doctor Aphra character. She's not on the good side, she's not on the bad side, and she has a scientific and dark mind. This volume starts out with Black Krrsantan's backstory. I like how he's obviously a Chewbacca counterpart as well as the murder droids are mirrors to the original droid duo, but they all have really come into their own. The murder droids are excellent in this volume and I'm super excited to see where they go next. I could see them having their own ongoing series. There are plenty of fun black market characters in this story. Just like Doctor Aphra herself, this volume is fun and dark. By the end of this volume, the dynamic has changed and I can't wait to see where it goes next.
I give this volume a 5/5. I want more original characters like Doctor Aphra!
--PAUL