*I received this book as an eARC from Balzer+Bray via Edelweiss
in exchange for an honest review*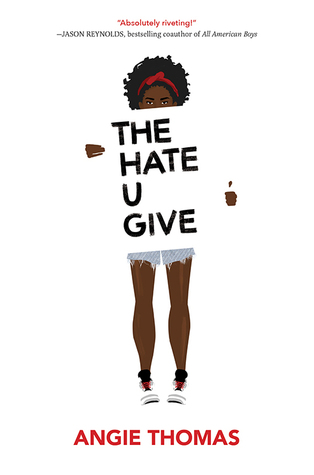 Amazon | Barnes & Noble | Goodreads
Title:
The Hate U Give
Author: Angie Thomas
Recent Release Date: February 28, 2017
Synopsis:
Sixteen-year-old Starr Carter moves between two worlds: the poor neighborhood where she lives and the fancy suburban prep school she attends. The uneasy balance between these worlds is shattered when Starr witnesses the fatal shooting of her childhood best friend Khalil at the hands of a police officer. Khalil was unarmed.
Soon afterward, his death is a national headline. Some are calling him a thug, maybe even a drug dealer and a gangbanger. Protesters are taking to the streets in Khalil's name. Some cops and the local drug lord try to intimidate Starr and her family. What everyone wants to know is: what really went down that night? And the only person alive who can answer that is Starr.
But what Starr does or does not say could upend her community. It could also endanger her life.
------------------------------------------------------------
Review: This book is everything. Everyone that lives in America in 2017 needs to read this book.
This book is so well written. I had the feels immediately. And by the time I was 80% into the book, I was crying over something I did not expect I would. The characters are so real. This book opens the door into a world that may be different than your own. Books like this need to be made. Reading fosters empathy and this book needs to get into as many people's hands as possible.
I give this book a 5/5 obviously. I could go on praising this book even more, but instead you should just go to Amazon right now and click BUY!
--PAUL