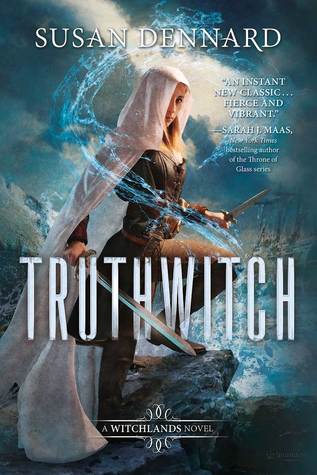 Amazon
|
Barnes & Noble
|
Goodreads
Title:
Truthwitch
Author: Susan Dennard
Recent Release Date: January 5, 2016
Synopsis:
In a continent on the edge of war, two witches hold its fate in their hands.
Young witches Safiya and Iseult have a habit of finding trouble. After clashing with a powerful Guildmaster and his ruthless Bloodwitch bodyguard, the friends are forced to flee their home.
Safi must avoid capture at all costs as she's a rare Truthwitch, able to discern truth from lies. Many would kill for her magic, so Safi must keep it hidden - lest she be used in the struggle between empires. And Iseult's true powers are hidden even from herself.
In a chance encounter at Court, Safi meets Prince Merik and makes him a reluctant ally. However, his help may not slow down the Bloodwitch now hot on the girls' heels. All Safi and Iseult want is their freedom, but danger lies ahead. With war coming, treaties breaking and a magical contagion sweeping the land, the friends will have to fight emperors and mercenaries alike. For some will stop at nothing to get their hands on a Truthwitch.
------------------------------------------------------------
Review: Why did no one make me read this book sooner!?! It's such a ME book. There's an ensemble cast. There's wonderful worldbuilding. An amazing magic system. Beautiful writing. It's the whole package.
Dennard is such a great writer. The characters all have their own voices and interact in such cool combinations. There's an unknown greyness to a lot of characters, which I love. There's moral complexity. It's not an easy black-and-white/good-and-evil story.
This is only the first book in the series and I'm already hooked. It reminds me of Star Wars and Avatar/Korra. There's such a big world and I am ready to explore it.
I obviously HIGHLY RECOMMEND this book! And I will be reading its sequel very soon! I give this book a 5/5. It's just so wonderful I don't know what more to say about it. Just go buy it. Read it. Then fangirl about it with me!
--PAUL