*I received this book as an eARC from DC Entertainment via NetGalley
in exchange for an honest review*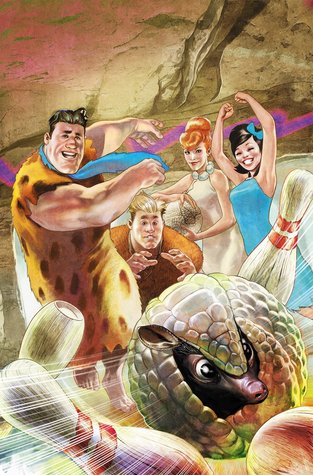 Amazon | Barnes & Noble | Goodreads
Title:
The Flintstones, Vol. 2
Writer: Mark Russell
Illustrator: Steve Pugh
Upcoming Release Date: October 10, 2017
My REVIEW of The Flinstones, Vol.1
Synopsis:
Fred and Barney reunite for Mark Russell's modern take on Hanna-Barbera's most famous stone-age family!
This second volume starring the first family of Bedrock (and civilization, really) tells the story of who we are and why we do what we do as if it all began with Fred, Wilma, Barney, Betty and the rest of the citizens of Bedrock. Shining a light on humanity's ancient customs and institutions in a funny origin story of human civilization, Mark Russell (PREZ) blends modern interpretations with Hanna-Barbera's classic characters, bringing a breath of fresh stone-age air.
Hanna-Barbera has created some of the most recognizable animated characters of all time. As part of DC Comics' reimagination of cartoons like SCOOBY-DOO, JOHNNY QUEST, SPACE GHOST and WACKY RACERS, these new series are infused with modern and contemporary concepts while keeping the heart and soul of the classic animation.
Collects THE FLINSTONES #7-12.
------------------------------------------------------------
Review: This second volume absolutely delivers! When I saw The End, I still wanted more! This series has taken classic characters and a setting everyone is familiar with and brought it to 2017. The political commentary in this volume is done so well. Humanity is shown fully, flaws and advantages. This series oddly pairs well with the nonfiction book
Sapiens: A Brief History of Humankind
by Yuval Noah Harari.
Each chapter has its own focus while still keeping the whole arc moving forward. The church story is great. Economics comes up in this volume. Wilma's mother and her transition from hunter-gatherer to farmer. The heart of this volume though, is in the appliances. I almost cried.
There's also great pop culture references. Stony Danza as a celebrity endorsement was hilarious. Pterodactyl drones attacking innocent people.
This whole series is a great commentary on humanity. There's only two volumes, so you might as well just buy them both! I give this volume a 5/5. It effectively uses a simple story to show complex ideas and makes you question everyday things.
--PAUL