*I received this book as an eARC from Katherine Tegen Books and Harper Collins via Edelweiss
in exchange for an honest review; I read an annotated arc I received in a giveaway from the author*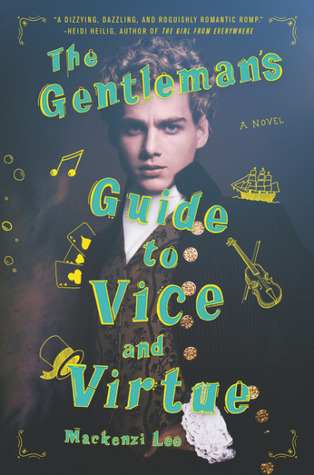 Amazon | Barnes & Noble | Goodreads
Title:
The Gentleman's Guide to Vice and Virtue
Author: Mackenzi Lee
Recent Release Date: June 27, 2017
My REVIEW of This Monstrous Thing by Mackenzi Lee
Synopsis:
Henry "Monty" Montague was born and bred to be a gentleman, but he was never one to be tamed. The finest boarding schools in England and the constant disapproval of his father haven't been able to curb any of his roguish passions—not for gambling halls, late nights spent with a bottle of spirits, or waking up in the arms of women or men.
But as Monty embarks on his Grand Tour of Europe, his quest for a life filled with pleasure and vice is in danger of coming to an end. Not only does his father expect him to take over the family's estate upon his return, but Monty is also nursing an impossible crush on his best friend and traveling companion, Percy.
Still it isn't in Monty's nature to give up. Even with his younger sister, Felicity, in tow, he vows to make this yearlong escapade one last hedonistic hurrah and flirt with Percy from Paris to Rome. But when one of Monty's reckless decisions turns their trip abroad into a harrowing manhunt that spans across Europe, it calls into question everything he knows, including his relationship with the boy he adores.
------------------------------------------------------------
Review: This book is such a fun adventure with so much heart! I was lucky enough to win an annotated copy from the author in a giveaway which made it an even more thrilling read. It was like I was being walked through the book with fun little side comments and colorful drawings of marine mammals shouting "gaaaaaaaaayyyyy" as well as details into the author's process.
This book takes place in the 1700s, but it is written with a modern eye. Much research was done into the settings and era, but there's an awareness that feels very now. The book is essentially a rich queer man's romp around Europe with his best friend and nerdy sister that goes horribly wrong. But horribly wrong in so many wonderfully outrageous escapades. I'm talking stolen artifacts, surprisingly nice pirates, and more than a handful of beautiful cities. The working title of the book was "The Big Gay European Road Trip Novel" and that's what it wonderfully is!

The book is told from Monty's POV and the author absolutely nails the voice. It is infuriating in the best way possible when Monty doesn't catch something or interprets a situation in the wrong way. All three of the main characters are written so well. They make such a great team of misfits.
Obviously, I absolutely loved this book. I'm going to be recommending it to so many people. It's a fun, adventure story with queer characters that takes place in 1700s Europe! I'm super stoked for the next book in this universe ("The Lady's Guide to Petticoats and Piracy" is expected to be released sometime in 2018). I give this book a 5/5. You will love it!
--PAUL