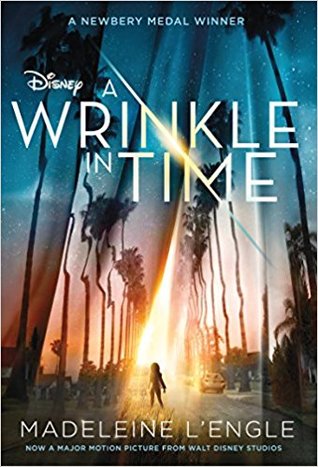 Amazon | Barnes & Noble | Goodreads
Title:
A Wrinkle in Time
Author: Madeleine L'Engle
Publication Year: 1962
Synopsis: It was a dark and stormy night... In 1962, Madeleine L'Engle debuted her novel A Wrinkle in Time, which would go on to win the 1963 Newbery Medal. Bridging science and fantasy, darkness and light, fear and friendship, the story became a classic of children's literature and is beloved around the world. Now Disney is taking it to the silver screen! With an all-star cast that includes Oprah Winfrey, Reese Witherspoon, Mindy Kaling, Chris Pine, and newcomer Storm Reid, the major motion picture bring the world of Wrinkle to life for a new generation of fans.
------------------------------------------------------------
Review: Somehow, I never came across A Wrinkle in Time as a child. I feel like I would have had very different feelings toward the book if I had read it then instead of now as a 29 year-old man. I obsessed over The Giver, which has a similar feel to it. L'Engle was a trailblazer. After much difficulty, she published this fantasy middle-grade book with a female lead in 1962.
There are so many scientific and logical ways of thinking presented in this book, but there are also some dated things. I didn't relate as much because of this. Spirituality is at the center of the book, but also leaving a place for science. Hope and individuality are the themes that I most connected with.
I have not seen the movie yet, but imagined how spectacular it must be as I read this book. Oprah, Reese Witherspoon, and Mindy Kaling were definitely in my mind's eye as I read about their characters.
There are really cool concepts that are only mentioned in this book that I wanted more of. The book is so short. I'm sure some things come up in the sequels, but if this had been written in modern times I feel the worldbuilding would have been even more detailed. I loved Aunt Beast!
I give this book a 3/5. It took me longer than it should have for such a short book. Some of its themes are dated, but the major message still rings clear. I hope this book reaches many young girls and encourages them to follow their passions in STEM.
--PAUL