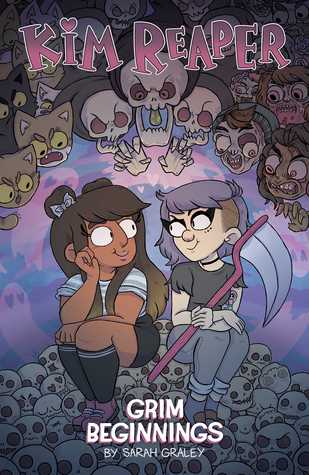 Amazon | Barnes & Noble | Goodreads
Title:
Kim Reaper: Grim Beginnings
Author: Sarah Graley
Upcoming Release Date: March 13, 2018
Synopsis:
Part-Time Grim Reaper. Full-Time Cutie!
Like most university students, Kim works a part-time job to make ends meet. Unlike most university students, Kim's job is pretty cool: she's a grim reaper, tasked with guiding souls into the afterlife.
Like most university students, Becka has a super intense crush. Unlike most university students, Becka's crush is on a beautiful gothic angel that frequents the underworld. Of course, she doesn't know that.
Unaware of the ghoulish drama she's about to step into, Becka finally gathers up the courage to ask Kim on a date! But when she falls into a ghostly portal and interrupts Kim at her job, she sets off a chain of events that will pit the two of them against angry cat-dads, vengeful zombies, and perhaps even the underworld itself. But if they work together, they just might make it... and maybe even get a smooch in the bargain.
------------------------------------------------------------
Review: I love all these genre graphic novels with queer characters that are coming out! The dynamic between Becka and Kim is so fun and adorable. The premise is that Kim works as a part time grim reaper to pay her bills while going through university. Becka has a crush on Kim and falls into her world of paranormal cutesy gothness. That's the best way to describe the art style, I think: cutesy goth. Or, bubblegum goth?
The tone is light, but genuine. It reminds me of Scott Pilgrim in some ways. I loved the ending of this first volume. I will definitely be looking out for the next volume.
I give this graphic novel a 5/5. This comic is wonderfully queer and wonderfully supernatural. There need to be more things like this in the world.
--PAUL