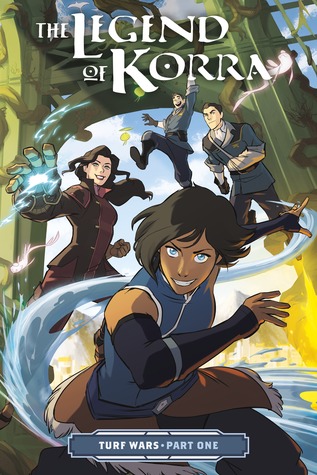 Amazon | Barnes & Noble | Goodreads
Title:
The Legend of Korra: Turf Wars Part One (Turf Wars #1)
Author: Michael Dante DiMartino
Illustrator: Irene Koh
Recent Release Date: July 26, 2017
Synopsis:
Relishing their newfound feelings for each other, Korra and Asami leave the Spirit World . . . but find nothing in Republic City but political hijinks and human vs. spirit conflict!
A pompous developer plans to turn the new spirit portal into an amusement park, potentially severing an already tumultuous connection with the spirits. What's more, the triads have realigned and are in a brutal all-out brawl at the city's borders - where hundreds of evacuees have relocated!
In order to get through it all, Korra and Asami vow to look out for each other - but first, they've got to get better at being a team and a couple!
------------------------------------------------------------
Review: It is so wonderful to see Korra and Asami living as a couple! Those last few moments of the Korra Finale meant so much to me and watching their journey continue is excellent. This is only the first part in the Turf Wars series so it very much feels like a new beginning. We catch up with all the main characters after the Finale. The new conflict is established and the adventure is only beginning.
The biggest part of this book is Korra and Asami's informal coming-out tour to their families and friends. It is all written wonderfully and makes me wish we could have seen it happen on Nickelodeon.
I give this book a 5/5, I did want more to happen, but it was a good start for this series. I am looking forward to the second part.
--PAUL