*I received this book as an eARC from Disney Book Group via NetGalley
in exchange for an honest review*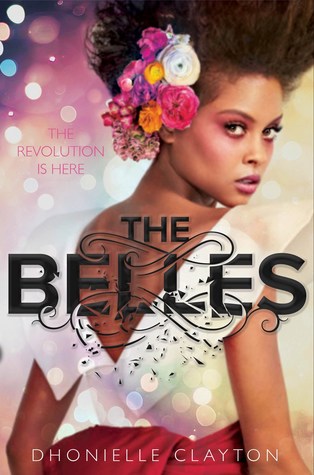 Amazon | Barnes & Noble | Goodreads
Title:
The Belles
Author: Dhonielle Clayton
Release Date: February 6, 2018
Synopsis:
Camellia Beauregard is a Belle. In the opulent world of Orléans, Belles are revered, for they control Beauty, and Beauty is a commodity coveted above all else. In Orléans, the people are born gray, they are born damned, and only with the help of a Belle and her talents can they transform and be made beautiful.
But it's not enough for Camellia to be just a Belle. She wants to be the favorite—the Belle chosen by the Queen of Orléans to live in the royal palace, to tend to the royal family and their court, to be recognized as the most talented Belle in the land. But once Camellia and her Belle sisters arrive at court, it becomes clear that being the favorite is not everything she always dreamed it would be. Behind the gilded palace walls live dark secrets, and Camellia soon learns that the very essence of her existence is a lie—that her powers are far greater, and could be more dangerous, than she ever imagined. And when the queen asks Camellia to risk her own life and help the ailing princess by using Belle powers in unintended ways, Camellia now faces an impossible decision.
With the future of Orléans and its people at stake, Camellia must decide—save herself and her sisters and the way of the Belles—or resuscitate the princess, risk her own life, and change the ways of her world forever.
------------------------------------------------------------
Review: I have had a horribly slow year of reading. The Belles has been on my kindle being read for almost half of 2018. I don't think it was this book itself that lead to my slump, though. I absolutely loved the writing style in this book. The worldbuilding from page one is done excellently. Clayton painlessly adds worldbuilding vocabulary that the reader easily can interpret without info dumping.
This may be since it took me so long to read, but I didn't connect too well with these characters. I absolutely loved the world. I loved the story, but each character never really fully formed for me. The love interest(s) bored me. There seemed like a lot of the book had some features just to fit in well with popular YA tropes and patterns. I wanted even more focus on the protagonist and her sisters.
I highly recommend this book. I want more books like this out there! I wish I would have been able to read it faster and focus on in closer. I give this book a 4/5.
--PAUL