*I received this book as an eARC from Image Comics via Edelweiss.
I voluntarily read and reviewed an advanced copy of this book. All thoughts and opinions are my own.
*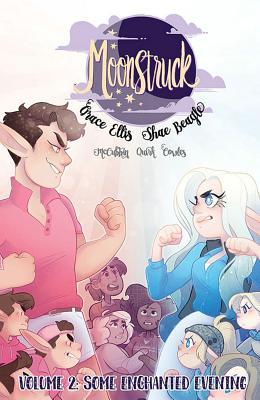 Amazon | Barnes & Noble | Goodreads
Moonstruck, Volume 1
Title:
Moonstruck, Vol. 2: Some Enchanted Evening
Author: Grace Ellis
Artists: Shae Beagle & Kat Fajardo
Recent Release Date: March 19, 2019
Synopsis:
Werewolf barista Julie and her supernatural friends try to unwind at a party, but a conniving fraternity of fairy bros has other plans for our heroes. With one of their friends trapped in the frat house and the winter solstice (a notable night of magical mischief) looming ever-closer, it's up to the amorous werewolves and gregarious centaur to save the day.
Collects MOONSTRUCK #6-10
------------------------------------------------------------
Review: I absolutely LOVED the first volume of Moonstruck. An alternative modern world full of magical creatures and so much beautiful diversity and representation! The fun continues in this second volume. The relationships that formed in volume one are still fresh and this volume continues them along naturally with the usual bumps and bonding.
There are so many fun, little references in this volume. NewPals is this world's version of NeoPets or Club Penguin. It comes up multiple times throughout the story. The Pleasant Mountain Sisters stories return with a glimpse into a fan fic.
The magical creatures focused on in this volume include fairies, dragons, and vampires. The fairy circle in the form of a frat house is excellent! I love the way these classic magical creatures are brought into a modern-ish world. There's a store in the mall called 21 Forever where vampires work!
This was another great story! Supernatural things are happening, but the cutesy character stories are at the heart of the book. Those in relationships learn new things about their significant others in this volume.
I give this book a 5/5! I'm so happy that this series is continuing. You should definitely go read volume one! I absolutely love this world. Magic and Queerness!!!
--PAUL