*I received this book as an eARC from Balzer + Bray via Edelweiss
in exchange for an honest review*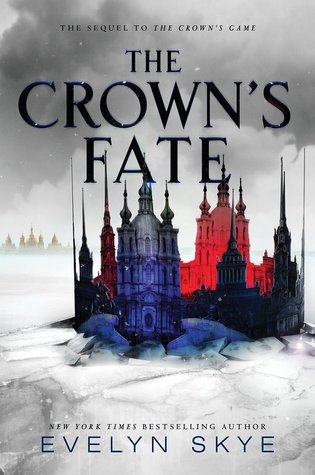 Amazon | Barnes & Noble | Goodreads
My REVIEW of The Crown's Game
Title:
The Crown's Fate (The Crown's Game #2)
Author: Evelyn Skye
Upcoming Release Date: May 16, 2017
Synopsis:
Russia is on the brink of great change. Pasha's coronation approaches, and Vika is now the Imperial Enchanter, but the role she once coveted may be more difficult—and dangerous—than she ever expected.
Pasha is grappling with his own problems—his legitimacy is in doubt, the girl he loves loathes him, and he believes his best friend is dead. When a challenger to the throne emerges—and with the magic in Russia growing rapidly—Pasha must do whatever it takes to keep his position and protect his kingdom.
For Nikolai, the ending of the Crown's Game stung deeply. Although he just managed to escape death, Nikolai remains alone, a shadow hidden in a not-quite-real world of his own creation. But when he's given a second chance at life—tied to a dark price—Nikolai must decide just how far he's willing to go to return to the world.
With revolution on the rise, dangerous new magic rearing up, and a tsardom up for the taking, Vika, Nikolai, and Pasha must fight—or face the destruction of not only their world but also themselves.
------------------------------------------------------------
Review: I love the fantastical, alternate history Russian world with magic that Evelyn Skye has created. The imagery in this sequel continues to impress me. I love how detailed the magic is described.
Pasha, Vika, and Nikolai are once again at the center of all the drama happening in Russia. Each character is written so well, even the more minor characters. Their motivations and differing opinions make sense. This was a very interesting time in Russia's history so when you add magic, there's bound to be crazy happenings.
I did find this book slower than the first. There's a lot more thinking and assessing motivation. The first book was a quick read for me. Now knowing the characters already so well, the excitement to turn the page and read the next chapter wasn't quite there. The first book also had the impending threat and anticipation of The Game.
I give this book a 4.5/5. A wonderful sequel to an excellent book. If you are more familiar with Russian history than me, I'm sure you'll enjoy it even more. I definitely found myself wikipedia-ing things like the Decembrists (not the band). The Author's Note at the end was also helpful with how this story differed from what happened in our world.
--PAUL