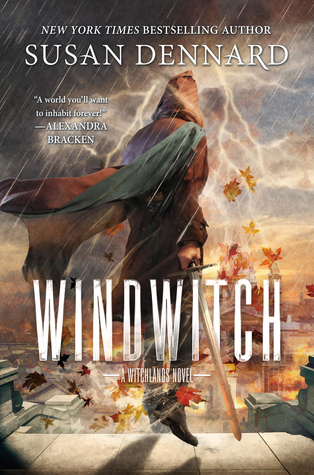 Amazon
|
Barnes & Noble
|
Goodreads
Title:
Windwitch (The Witchlands #2)
Author: Susan Dennard
Recent Release Date: January 10, 2017
My REVIEW of Truthwitch (The Witchlands #1)
Synopsis:
After an explosion destroys his ship, the world believes Prince Merik, Windwitch, is dead. Scarred yet alive, Merik is determined to prove his sister's treachery. Upon reaching the royal capital, crowded with refugees, he haunts the streets, fighting for the weak—which leads to whispers of a disfigured demigod, the Fury, who brings justice to the oppressed.
When the Bloodwitch Aeduan discovers a bounty on Iseult, he makes sure to be the first to find her—yet in a surprise twist, Iseult offers him a deal. She will return money stolen from him, if he locates Safi. Now they must work together to cross the Witchlands, while constantly wondering, who will betray whom first?
After a surprise attack and shipwreck, Safi and the Empress of Marstok barely escape with their lives. Alone in a land of pirates, every moment balances on a knife's edge—especially when the pirates' next move could unleash war upon the Witchlands.
------------------------------------------------------------
Review: This series is soooooooo good! Windwitch follows in the steps of the amazing Truthwitch and continues to build this amazingly rich world. This book didn't go as fast as the first book did for me, but I think that's due to me already knowing most of the characters and being familiar with the world. I loved the discovery of the magic system in Truthwitch. Since the magic system has already been introduced, not as much time is spent on it. But we do get to see magic used in new and interesting ways.
The amount of POVs adds to the story! Whenever I finished a chapter, I'd read just a sentence of the next and be pulled in to continue reading to see how someone else's story was going.
The mythology in this story is so deep. The different cultures are written so well, showing in the mannerisms and how people from different areas talk. The world is so complex. It feels even bigger than the stories these books are focusing on. We got a little more politics in this sequel. I like seeing the differing sides.
The characters in this book are so awesome! I won't go into details, but: CAM!!! VIVIA!!! OWL!!!
I give this second book in The Witchlands series a 5/5. If you haven't read Truthwitch, you need to get on that immediately!
--PAUL