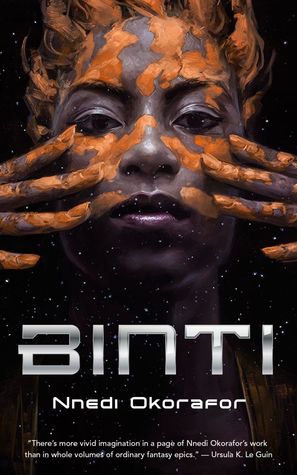 Amazon | Barnes & Noble | Goodreads
|
Audible
Title:
Binti
Author: Nnedi Okorafor
Year Published: 2015
Narrator: Robin Miles
Audiobook Length: 2 hours 15 minutes
Synopsis:
Her name is Binti, and she is the first of the Himba people ever to be offered a place at Oomza University, the finest institution of higher learning in the galaxy. But to accept the offer will mean giving up her place in her family to travel between the stars among strangers who do not share her ways or respect her customs.
Knowledge comes at a cost, one that Binti is willing to pay, but her journey will not be easy. The world she seeks to enter has long warred with the Meduse, an alien race that has become the stuff of nightmares. Oomza University has wronged the Meduse, and Binti's stellar travel will bring her within their deadly reach.
If Binti hopes to survive the legacy of a war not of her making, she will need both the gifts of her people and the wisdom enshrined within the University, itself - but first she has to make it there, alive.
---------------------------------------------------------

Review: This audiobook kept me at the edge of my driver's seat. This is a novella so it only lasts a little over two hours as an audiobook. I wanted more of this world. You are dropped into a futuristic world where humans are just one of the many alien species occupying the galactic society. Binti is the first of her people to go to this prestigious university, but things go wrong on the trip there.
It was nice to read a sci-fi book that didn't focus on humans with a European ancestry. There are so many questions I had about this world. A sequel came out earlier this year called Home and I'm hoping to listen to it in audiobook format sometime soon.
This is the first Nnedi Okorafor book I've read and now I want to start going through her catalog. I give this novella audiobook a 5/5.
--PAUL