*I received this book as an eARC from Oni Press via NetGalley
in exchange for an honest review*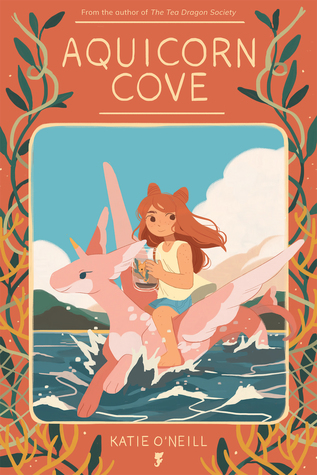 Amazon | Barnes & Noble | Goodreads
Title:
Aquicorn Cove
Author: Katie O'Neill
Upcoming Release Date: October 16, 2018
Synopsis: When Lana and her father return to their seaside hometown to help clear the debris of a storm, the last thing she expects is to discover a colony of Aquicorns—magical seahorse-like residents of the coral reef. As she explores the damaged town and the fabled undersea palace, Lana learns that while she cannot always count on adults to be the guardians she needs, she herself is capable of finding the strength to protect both the ocean, and her own happiness.
------------------------------------------------------------
Review: Katie O'Neill is an amazing storyteller. Not only is her art adorable, but her characters and story are beautifully woven. This story has grief at the heart of it, but there are also adorable mythical animals and a connection to the sea. A sibling relationship is shown between sisters. A grieving father and his young daughter help an island recover. There are big world issues involved such as over-fishing and global climate change, but the story itself is very personal.
I give this comic a 5/5. It's a beautifully adorable story about modern environmental issues and grieving. This is another wonderful work of art from Katie O'Neill.
--PAUL