*I received this book as an eARC from HarperCollins via Edelweiss
in exchange for an honest review*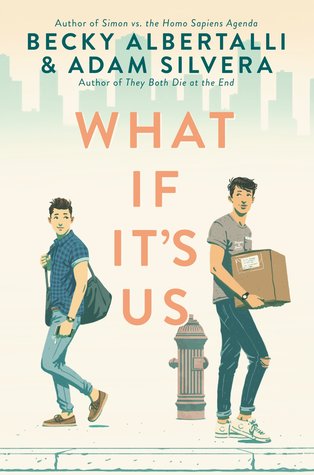 Amazon | Barnes & Noble | Goodreads
Title:
What If It's Us
Author: Becky Albertalli and Ada, Silvera
Recent Release Date: October 9, 2018
Synopsis:
Arthur is only in New York for the summer, but if Broadway has taught him anything, it's that the universe can deliver a showstopping romance when you least expect it.
Ben thinks the universe needs to mind its business. If the universe had his back, he wouldn't be on his way to the post office carrying a box of his ex-boyfriend's things.
But when Arthur and Ben meet-cute at the post office, what exactly does the universe have in store for them?
Maybe nothing. After all, they get separated.
Maybe everything. After all, they get reunited.
But what if they can't quite nail a first date . . . or a second first date . . . or a third?
What if Arthur tries too hard to make it work . . . and Ben doesn't try hard enough?
What if life really isn't like a Broadway play?
But what if it is?
------------------------------------------------------------
Review: Becky Albertalli AND Adam Silvera wrote a gay YA contemporary romance book! I have followed these two authors since they first got published. Their social media is on point and they seem like truly excellent people. This book feels like two friends creating something magical together. You can see different aspects of each of their writing and their own personalities in Ben and Arthur.
The characters in this book are so well fleshed out. There's about a dozen characters and they all feel complete and never was I once confused about who was being talked about. Arthur is new to New York, so he has his friends back home in Georgia as well as older interns working with him at his mother's law firm. Ben is a New Yorker so he's in his element with friends, an ex, and a kinda ex-friend even. The two boys meet in the most adorable meet-cute scenario and must find each other again in New York City.
This is a modern book. There are wonderful references to current pop culture and maybe a few nods to other YA bestsellers. I really enjoyed the Hamilton and Dear Evan Hansen references. There were so many character quirks that made me feel like I really knew these boys. It made me imagine what high school would have been like had I been more comfortable in my own skin.
This is an adorable, fun book. I really enjoyed the epilogue. Becky and Adam show the fun and the challenges of a summer romance full of do-over first dates. I absolutely give this book a 5/5. Why haven't you already read it!?!
--PAUL