*I received this book as an ARC.
I voluntarily read and reviewed an advanced copy of this book. All thoughts and opinions are my own.
*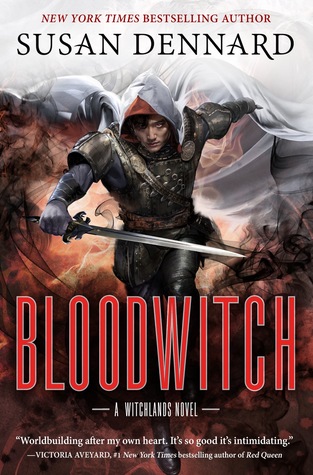 Amazon | Barnes & Noble | Goodreads
Title:
Bloodwitch (The Witchlands #3)
Author: Susan Dennard
Recent Release Date: February 12, 2019
My REVIEW of Truthwitch
My REVIEW of Windwitch
My REVIEW of Sightwitch
Synopsis:
Fans of Susan Dennard's New York Times bestselling Witchlands series have fallen in love with the Bloodwitch Aeduan. And now, finally, comes his story.
High in a snowy mountain range, a monastery that holds more than just faith clings to the side of a cliff. Below, thwarted by a lake, a bloodthirsty horde of raiders await the coming of winter and the frozen path to destroy the sanctuary and its secrets.
The Bloodwitch Aeduan has teamed up with the Threadwitch Iseult and the magical girl Owl to stop the destruction. But to do so, he must confront his own father, and his past.
------------------------------------------------------------
Review: This series is fantastic. This is the fourth book in the series, but the third full length novel. The writing in all of these books is amazing! The world building is excellent! The characters are wonderful! If you haven't read Truthwitch, stop reading this and go get it and read it NOW!
Aeduan gets the lead arc in this installment. The fans have labeled him Baeduan and this book might actually give light to that name, really delving into Aeduan's backstory. He addresses some inner demons of his own and makes some great revelations. While looking pretty badass the whole time, I may add.
This is an ensemble series so all of the main characters are back, scattered across the Witchlands. Iseult is with Aeduan and Owl. Safi is with Vaness in a gorgeously described throne room. Merik, Cam, and Ryber are being chased by the Fury towards the Sightwitch Sisters Convent! (This chapter got me so excited since Sightwitch was the most fresh in my mind) Vivia and Stix are learning more about the underground city. Throughout the book, these characters all make progress, switch adventuring partners, cross paths in amazing ways, and learn more about what's really going on in the Witchlands.
There are so many great emotional moments in this book. Dennard excellently roots this series in complex characters and sprinkles in the immersive world in such a wonderfully palatable way. The chapters featuring Aeduan's youth especially hit me in the feels. BOOTS!!! I loved getting to learn more about the magical system and mythology. Sightwitch is absolutely a MUST-READ before this book.
I obviously give this novel a 5/5! I can't recommend this series enough. It has everything that I like in a book series. If you like Fantasy and you haven't read this, you better get on it! And if you've read some of the series and aren't sure whether you want to pick up Bloodwitch, it is absolutely worth it!
--PAUL